---
---
BACKWARD DAYTIME AFFIRMATION DOWNLOADS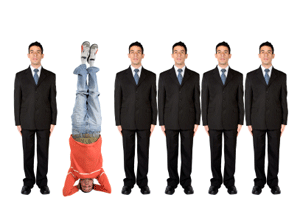 MP3 format only - Just $19.95 each!
Enjoy the affirming and reprogramming power of hypnosis - during the daytime!
* * * Use with caution when operating a motor vehicle * * *
There is a growing body of research indicating that the subconscious mind has the ability to process information it hears backwards. When studying cognitive psychology at the University of Florida in the 1980's, I conducted a few experiments pertaining to this phenomenon. What I discovered was that the human mind can reverse the messages AND act on them!
This has tremendous implications in the world of hypnotherapy. It is possible to listen to a recording, backwards, telling you to lose weight. At the same time, your subconscious mind can reverse the message and hear it forward. This means that you get the benefit of the programming without your conscious mind working against you.
Q- Why are the words played backwards?
A- There is considerable research evidence indicating that your subconscious mind can understand the meaning of phrases which it hears played backwards. By playing the words backwards, your conscious mind cannot tell what the words are, so they go directly to your subconscious mind. This allows you to get the change you want, quickly!
Q- I heard that rock bands in the 70's hid bad messages in songs by recording the song and then playing them backwards and re-recording them.
A- I heard that too, as a kid. In fact, I once took apart a cassette tape of Stairway to Heaven by Led Zeppelin and switched the reels. When I put the tape back together, I was able to hear the words. And, yes, they were bad. Well, that was good publicity for a band and helped them sell many albums (still to this day). However, research shows that this technique, when used for good, is a reliable way to deliver positive messages to the subconscious mind.
Q- I want to hear the suggestions on the recordings, played clearly, so that I know what is on them.
A- No problem. All of the backward daytime recordings are just the Daytime Affirmations, played backwards. So, to hear the messages, just order the corresponding title from the Daytime Affirmation page.
Q- Can I listen to more than one Backward Daytime recording per day?
A- Yes. You can use multiple Backward Daytime recordings throughout the day or night.
Q- Can I use these recordings while I jog or do housework?
A- Yes. Backward Daytime recordings are perfect for jogging, doing chores, studying, etc. You can even play them, with caution, in a moving vehicle.
Q- Can I use Backward Daytime recordings downloads while I sleep?
A- Yes. You can play them once, or loop them, or play several throughout the night (or day).
Q- Can I play the Backward Daytime recording downloads in a moving vehicle?
A- Yes. There are no relaxation suggestions on the recordings.
CLICK HERE for backward daytime Affirmation Downloads now available!
Now you too can enjoy the affirming and reprogramming power of hypnosis - during the daytime! You'll see a new you and you'll feel great about it! See you at the top --
BACKWARD DAYTIME AFFIRMATION DOWNLOADS
BY STEVE G. JONES, M.Ed,
CLINICAL HYPNOTHERAPIST
Steve G. Jones has been helping people improve their lives with hypnosis for over 20 years... now it's time for him to help YOU!
Backward Daytime Affirmation Downloads are a completely safe, straightforward, drug-free and 100% natural alternative.
They are extremely effective and can help you:
Enjoy the affirming and reprogramming power of hypnosis - during the daytime!
Power your mind to be charged with focused encouragement for positive change
Boost and reinforce the positive change caused by the related full hypnosis CD or MP3

Steve G. Jones is a graduate of the University of Florida and is certified as a Clinical Hypnotherapist by the National Guild of Hypnotists and the American Board of Hypnotherapy.
This program was recorded and mastered in a professional recording studio in GA by world-class engineers using state-of-the-art digital technology.
*NEVER PLAY THIS HYPNOSIS RECORDING IN A MOVING VEHICLE*
*IF YOU ARE UNDER THE CARE OF A PHYSICIAN CONCERNING THE CONDITION YOU WILL BE USING THIS PROGRAM FOR, PLEASE CONSULT YOUR DOCTOR BEFORE BUYING*
*PRODUCTS AND SERVICES OFFERED ON THIS WEBSITE ARE IN NO WAY INTENDED TO REPLACE THE ADVICE OR TREATMENT OF A TRAINED AND LICENSED PROFESSIONAL. ALWAYS CONSULT A TRAINED AND LICENSED PROFESSIONAL FIRST BEFORE USING ANY OF THE PRODUCTS OR SERVICES ON THIS WEBSITE.*
Copyright © 2008 MG Discount Inc. In Partnership With Steve G. Jones.