---
---
SUBLIMINAL RECORDING DOWNLOADS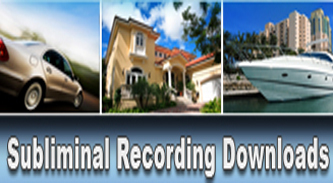 MP3 format only - Just $19.95 each!
Enjoy the affirming and reprogramming power of hypnosis - with my new Subliminal Recordings!
You may be wondering what subliminal recordings are and how they are different from the daytime affirmation recordings or the gold, platinum, and titanium hypnosis recordings.

Subliminal recordings are a wonderful way to deliver a positive message to your subconscious mind without being aware of the actual words spoken. All you will hear is relaxing music and occasional parts of words.

Subliminal Recording Downloads are the half-hour scripts from the full platinum hypnosis recordings without any relaxation suggestions. The sound engineers have removed the other half-hour (the part with the relaxation suggestions). Then, they used one of my two favorite binaural audio tracks to mask the suggestions. Some recordings have one binaural audio track, some have the other. You can hear parts of words here and there, but for the most part, you will not be consciously aware of the powerful suggestions on the recordings.

So, essentially, we have taken the Daytime Affirmation Downloads and added music over the words. This technique is not new. I have listened to subliminal recordings since the mid 1980's. At the request of many clients, I have finally produced my own line of subliminal recordings.
Frequently Asked Questions (FAQs) about Subliminal Recording Downloads

Q- Can I listen to more than one subliminal recording per day?

A- Yes. You can use multiple subliminal recordings throughout the day or night.

Q- Can I use these recordings while I jog or do housework?

A- Yes. Subliminal recordings are perfect for jogging, doing chores, studying, etc. Just be sure not to play them in a moving vehicle. If you want something you can play in a moving vehicle, use our Daytime Affirmations.

Q- Can I use subliminal recordings while I sleep?

A- Yes. You can play them once, or loop them, or play several throughout the night (or day).
CLICK HERE for Subliminal Downloads now available!
SUBLIMINAL DOWNLOADS
BY STEVE G. JONES, M.Ed,
CLINICAL HYPNOTHERAPIST
Steve G. Jones has been helping people improve their lives with hypnosis for over 20 years... now it's time for him to help YOU!
Subliminal Downloads are a completely safe, straightforward, drug-free and 100% natural alternative.
They are extremely effective and can help you:
Enjoy the affirming and reprogramming power of hypnosis - with relaxing music!
Power your mind to be charged with focused encouragement for positive change
Boost and reinforce the positive change caused by the related full hypnosis CD or MP3

Steve G. Jones is a graduate of the University of Florida and is certified as a Clinical Hypnotherapist by the National Guild of Hypnotists and the American Board of Hypnotherapy.
This program was recorded and mastered in a professional recording studio in GA by world-class engineers using state-of-the-art digital technology.
*NEVER PLAY THIS HYPNOSIS RECORDING IN A MOVING VEHICLE*
*IF YOU ARE UNDER THE CARE OF A PHYSICIAN CONCERNING THE CONDITION YOU WILL BE USING THIS PROGRAM FOR, PLEASE CONSULT YOUR DOCTOR BEFORE BUYING*
*PRODUCTS AND SERVICES OFFERED ON THIS WEBSITE ARE IN NO WAY INTENDED TO REPLACE THE ADVICE OR TREATMENT OF A TRAINED AND LICENSED PROFESSIONAL. ALWAYS CONSULT A TRAINED AND LICENSED PROFESSIONAL FIRST BEFORE USING ANY OF THE PRODUCTS OR SERVICES ON THIS WEBSITE.*
Copyright © 2008 MG Discount Inc. In Partnership With Steve G. Jones.